Why do I need a Professional Home Stager?
At Design Solutions we bring our knowledge, talent and experience to stimulate the buyer's imagination. While most home sellers know that cleaning up to prepare for a home is a good idea, and a great first step for home staging, it does not necessarily allow the home's assets to shine.   This can make the difference between an exhausting sales process, which may result in a compromised price, versus a successful fast sale at the highest price possible.  USA Today reported in a Coldwell Banker survey of over 2,800 homes; the staged homes, on average, sold in half the time than the non-staged homes did. So stage first before listing your home!
Does staging a home really make a difference?
Unquestionably! Design Solutions professional staging services pour resale value into a home that is conveyed to the buyer as a home they want to own and live in. A home that has been professionally staged has a stronger appeal that will give the seller an edge over the competition. In a 2010 Home Gain Survey of over 2,000 realtors it was discovered that investing just $500 in home staging typically results in a 299% return on investment for the home seller. That's money in your pocket!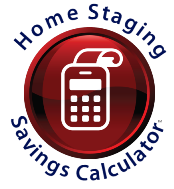 Is the market right to have my home staged?
The competition is stiff; buyers have high expectations as well as many options to choose from. Successful agents and sharp home owners know that 85% of buyers begin their home search on line. Design Solutions will create compelling photos for your online presentation of your home that emphasizes its positive features, creating ambiance and the most favorable first impressions. First impressions lead to lasting impressions, consequently driving traffic to your home, turning prospects into buyers.
What makes Design Solutions the best option for me?
Our approach to each home is individual, keeping the client involved in the process. We understand that it's difficult for a home owner to look at their home truly objectively. Karen's exquisite taste and keen eye enables her to create spaces that appeal to the masses. Her years of successful, discerning buying experience come into play when choosing what people desire and aspire. She will transform your home through smart creative and affordable solutions using home staging techniques,that will translate into an inviting home that potential buyers will desire and find emotional connection with.
Professional Home Staging costs a lot less than the cost of your first price reduction